Cosmetic Tattooing Sydney
Paramedical Clinic in Sydney CBD
Vitiligo & Scars & Stretch Marks Camouflage
Vitiligo Camouflage Micro Pigmentation
Your Vitiligo has been in remission for 1 year can be treated with ParaMedical tattooing. Vitiligo cosmetic tattooing treatment: multiple session are necessary to build the color to completely match your skin color.  Some people need just one to two session, but usually 2-3 session give you the best results.  During each session, more pigment is added to your skin in thin layers changing the color of the skin and blending it to your natural skin color.  Every 4 weeks you'll return for more pigmentation.
During each Vitiligo permanent make up session, the color is reviewed and adjustments are made if needed. Vitiligo camouflage micro-pigmentation is unique, so the number of sessions needed to obtain the desired results will vary based on each client's individual situation.  Prices are based on treatment procedure time. Our work is customized to each client's needs based on skin size, location, skin condition and the colors we are matching, usually we can camouflage up to 9 square inches  (3″ x 3″) of skin.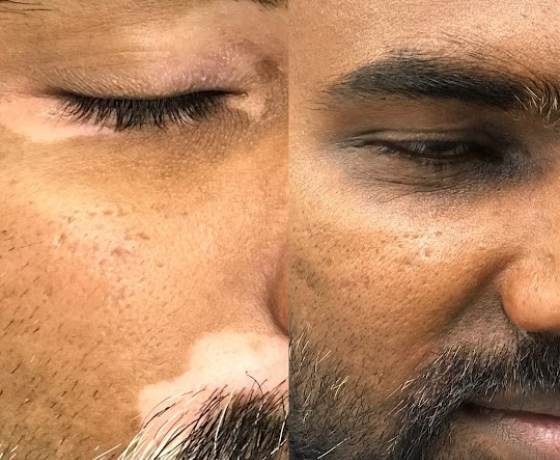 Scars Camouflage - Scars Needling
 The scar repigmentation or  tattooing help to reduce the appearance of your scars, but it's important to understand no scar will ever completely disappear. The scar camuflage tattooing takes several sessions.
Every scar is different: shape, color, the appearance of depth, and so on. Some scars require only a single treatment, others take multiple treatments. Results are cumulative and may take 4-8 weeks to fully develop. Your scars have to be at least 12 months old with stable color healed and no longer pink or changing color. If your scars have dark edges this procedure, not for you!   Post Inflammatory, hyperpigmentation from your surgery indicates you had a tendency to hyperpigmentation so the risk is too high. Your scar has to be smooth and flat. If your scars are bumpy or raised this treatment, not for you. You must have realistic expectations. The camouflage tattooing will not restore your skin to the way it looked before injured. Immediately after the tattooing, the pigmented area will look dark and red and it takes several weeks to show the healed color.
Vitiligo On Lips – Causes, Treatments & Useful Tips
Vitiligo -Scars- Stretch M. Camouflage Aftercare
If a tattoo is poorly cared for in the healing process it may not look well. The best thing to keep in mind while healing your tattoo is that a fresh tattoo is basically an open wound. It is a breach in your skin's defense system so it is susceptible to infection. However,  if you follow the aftercare and take measures to keep your new tattoo as clean as possible you should have no issues.
Apply a very thin coat of ointment. BUT ! one of the biggest mistakes people make is using too much ointment. It prolongs healing and can cause breakouts. The ointment does not actually heal the tattoo, it is only meant to keep the skin moist.  In this case, less is more.
After the first 3-4 days the tattoo will begin flaking.  Do not pick at any flaking skin or scabs. This may cause color to be pulled out. No sweating, no swimming for 7 days, well as hot saunas.  Avoide being directly exposed to the sun  for at least 4 weeks.
Everything You Need to Know About Stretch Mark Tattoos
Stretch Mark Brazilian Camouflage
Only $250 /1hour
Repigmentation or as commercially known as "Brazilian Stretch mark Camouflage"  is a system very much similar to tattooing, which through the use of special ink mixing formulas and careful application, will re-pigment your stretch marks, scars, vitiligo and hyper-pigmentation exactly the same colour of the surrounding skin. Blending the affected area permanently and seamlessly to the rest of your body's skin colou
What Are Stretch Marks?
Stretch marks, also known as striae , a type of scarring on the skin caused by a tearing of the dermis associated with rapid growth related to pregnancy or significant weight changes, and this tearing results in lesions with an off-color hue that clearly stands out against the rest of the skin. Stretch marks are very common among women, and there's certainly nothing wrong with having them, but many women feel insecure about their stretch marks and wish they could make them disappear, or at least appear less visible.
Stretch Mark Camouflage
A few years back, a Brazilian tattoo artist from São Paulo – Rodolpho Torres – developed the 'Brazilian Stretch Mark" special technique. While the stretch marks won't disappear, they will be markedly less obvious.
This is a revolutionary scar & stretch mark treatment whereby a unique formulation of tattoo ink is matched to your skin pigmentation. Through a specialised tattooing technique, the ink is perfectly blended with your natural skin tone, thereby reducing the appearance of scars or stretch marks anywhere on the body. While the scar or stretch mark will not necessarily disappear, the flesh tone pigmentation will adequately disguise the area.
This is an effective form of permanent cosmetics & paramedical tattooing and the process is known by a number of terminology including; Brazilian Scar Tattooing,  Corrective Pigment Camouflage (CPC),  Corrective Camouflage,  Skin Re-Pigmentation, Scar Camouflage,  Skin Camouflage,  Camouflage Tattooing, and Skin Colour Camouflage Tattooing.
Dark Circles Under the Eye Brazilian Camouflage
Dark Circle "Camouflage" underneath the eyes is a relativly technology.  Great number of people suffer from this problem and there is currently no medical or cosmetic application that can solve this problem. "Permanent Concealer" is a permanent make up method, which places ink just under the first layer of skin and is not visible to the eye, however this corrective pigment which cannot be seen in the background shows through the vessels and thus the darkness under the eyes is not then apparent. In addition, the procedure also smoothes out fine wrinkles and smoothes the overall appearance of the surface of the skin. The result usually lasts around 3 years.