Cosmetic Tattooing Sydney
Specializing in Lips Tattooing
Lips lightening is one of the latest in Permanent Make-Up. N
atural-looking tattooing,  perfectly correct your lip color with the shape.
Dark Lips Colour Correction
If you have a dark lip, this latest tattooing technique successful lightening your lips and also perfecting your lips shape.
.
Lip tattoo color correction is ideal for people who have a dark lip or suffering from vitiligo, or those who have scars on their lips and want to hidden.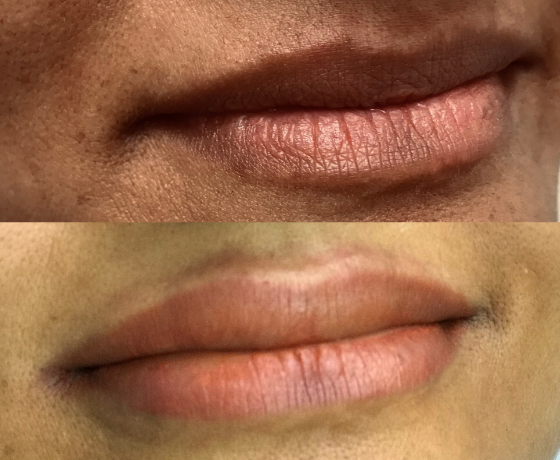 Permanent MakeUP
Permanent MakeUp

tattooing spans the young to the more mature; those who desire a soft, natural enhancement to their appearance. It is especially valuable to people who can't wear traditional cosmetics due to allergies and skin sensitivities;

active people who want to look their best for sports activities such as swimming, hiking, biking, tennis, aerobics; and those who don't want to worry about "sweating off" or reapplying cosmetics.
Permanent MakeUp also benefits the vision challenged who have difficulty applying their cosmetics; and others with dexterity related conditions such as arthritis, Parkinson's disease, multiple sclerosis, stroke survivors, and busy people who don't have time to spend applying and refreshing makeup throughout the day and evening.
Uneven symmetry
 ~Nipples 

can be

 corrected to look more equal
Uneven color pigmentation ~ Some clients have pigment which has faded with age.  Refresh, bring back life to the nipple area
Post Mastectomy ~ After the surgery realistic nipples, areola tattooing.  The look is very realistic.
Scar coverage ~ No tattooing can make the scars invisible!!! However, they can greatly be reduced or adjust the color
Get ready for the procedure
Do not have botox 4 weeks prior.
Do not work out the day of the procedure.
Do not tan two weeks prior or have a sunburned face.
Do not wax or tint your eyebrows 3 days before the procedure.
Do not have any type of facial/peel 4 weeks prior to treatment.
 Discontinue Vitamin A/Retinol products 6 weeks prior to treatment.
Do not take Fish Oil or Vitamin E two weeks prior (natural blood thinners)
Avoid alcohol and aspirin/ ibuprofen
AHA skincare products close to the area to be treated 4 weeks prior…
IPL hair laser removal should be performed no less than 2 weeks prior…
Unanswered phone calls ...
We can't apologize enough for not returning your phone call, but occasionally the message not clear and if the call came from a private number sadly we're unable to call you back.  Make sure you state your phone number clearly and slowly, the best if say it twice…
02 8542-4387