Cosmetic Tattooing Sydney
Dark Lips Lightening – Color Correction is one of the latest in Permanent Make-Up.  Super n

atural-looking pigmentation, correct your lips color and shape. 
Book your consultation; 0434 818 009
Dark Lips Lightening Color Correction
Dark Lip Lightening-Colour Correction. The latest tattooing method offers you excellent results if your lips are dark; bluish, greyish, purple…
In your first session, we only colored the dark part of your lips.  When healed, you will end up with a  beige, pink.
After 6 weeks the second session may have to repeat the first step, depending on how well "covered" from the first session.
When your lips healed perfectly then we will use a different color to balancing your lip color.
Book your FREE CONSULTATION  and we explain all details with pictures of results that can be expected.
Clients with dark lips have to understand that it may take multiple sessions for them to achieve the desired results.
Usual price: $1250-$1550 depends on the lip's color and texture.
Permanent Makeup
Permanent MakeUp

tattooing spans the young to the more mature; those who desire a soft, natural enhancement to their appearance. It is especially valuable to people who can't wear traditional cosmetics due to allergies and skin sensitivities.
Active people who want to look their best for sports activities such as swimming, hiking, biking, tennis, aerobics; and those who don't want to worry about "sweating off" or reapplying cosmetics.
LashLine Definition :$550
ThinLine & Lash Definition; $650
Lower LashLine Definition;  $300
Silhouette; $750
ParaMedical Tattooing
Uneven symmetry
 ~Nipples 

can be

 corrected to look more equal
Uneven color pigmentation ~ Some clients have pigment which has faded with age.  Refresh, bring back life to the nipple area
Post Mastectomy ~ After the surgery realistic nipples, areola tattooing.  The look is very realistic.
Scar coverage ~ No tattooing can make the scars invisible!!! However, they can greatly be reduced or adjust the color
One areola $400 & two $700
Scars camouflage around the nipple start; $250 per section 
Scars treatment with plasma start; $350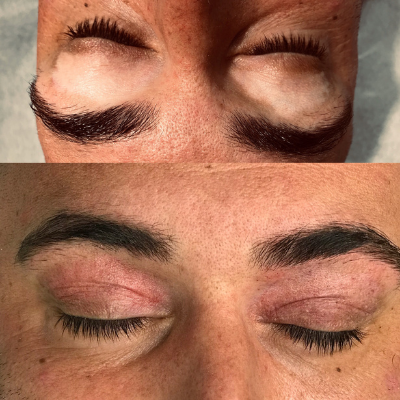 Vitiligo Camouflage
Last over 10 years.
Usually need 3xtreatment
Start $350