Cosmetic Tattooing Sydney
Lip Neutralisation & Lip Color Correction & Lip Vitiligo
Susie Finato
We specialize in improving the natural beauty of our customers' LIPS with semi-permanent makeup from our cosmetic tattoo boutique clinic based in Sydney, CBD, between Martin Place & St James Station. Recommended parking: Domain 5 min walk.
The beautiful full lip has been admired element of beauty in art from around the world, but nature doesn't always grace us with a beautiful lip and sadly the time can modify it as well. If you want a perfect, longer-lasting result on your lips, you can rely on us. We help you to perfect your look with the latest lips tattooing trends. Semi permanent lip tattoo treatments are a great way to complete your natural appearance and we look forward to sharing the advantages and beauty of cosmetic tattoo with you!
Our aim is to offer the best experience to all our customers, obtaining the desired results with the utmost respect and safety in mind.
Dark Lip Neutralisation Tattoo
Dark Lip Neutralisaton tattoo
could be a life-changing experience for many clients that struggle with discolored lips.  This treatment has been controversial for many years in lip permanent makeup. However, it is becoming increasingly popular with female and male clients who want to lighten and color correct their lips. Dark Lip Neutralisation is a semi permanent lip tattooing procedure balancing out the dark or cool tones in the lips by using colour theory techniques. Lightening tattoo dark lips requires specialized pigments, pigments mixing and layering knowledge. A special "shading" tattooing machine in use in dark lip lightening tattooing which gently but firmly implants the right color correct pigment into the skin, without waking up the lip's melanin.
Free consultation; 0434 818 009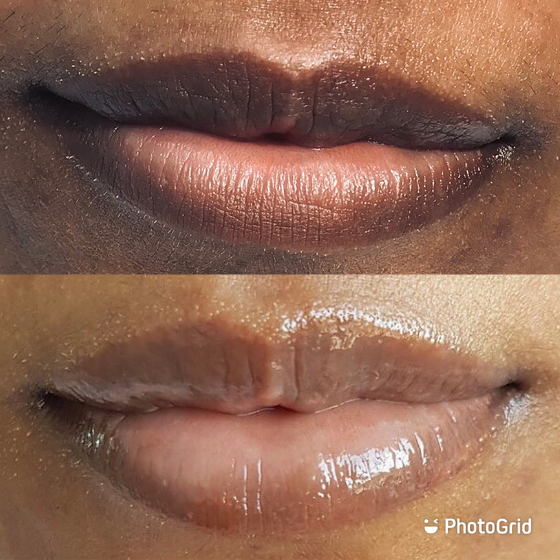 Dark Lip Neutralisation & Dark Lip Color Correction Tattoo & Dark Lip Lightening Tattooing
Dark Lip Lightening is for any person who is classified as a Fitzpatrick 3 and up on the Fitzpatrick skin tone scale. This can include people who have a heritage in Asia, Africa, South America, the Mediterranean and so on… Asian Lips Usually 2 -3 sessions, darker Indian or African lips over 4 sessions, bring the desired lip color. Every session gives a better, lighter look. The client's lip will be more even toned and lighter after 6-8 weeks. The best when the lips become lighter without the tattooed look… Thorough consultations with dark lip corrective tattooing are essential to set a plan, free consultation required. Melanin-rich lip usually thick and textured, pretty tricky to work on, also this procedure time-consuming, needs commitment.
Dark Lip Neutralisation Healing Process
When the lips start to heal and peel off, they can go light or dark in some spots. Don't worry…
Sometimes clients might experience post-inflammatory hyperpigmentation or hypopigmentation that goes away but could be scary for a client. Between 5 to 6 weeks back to normal…
The healing process of dark lips can be weird. Sometimes clients' lips get darker at the beginning and lighten up after a few weeks.
Depending on how dark and hyperpigmented the lips are, it might take multiple sessions to neutralize the lips.
Healing usually takes 6 -8 weeks..
Men's Lip Blushing Tattoo
Male Lip Blushing
Lip blushing is semi-permanent makeup that tints / blush your lips using a cosmetic tattoo gun and water-based inks. The result is kind of similar to when you bithing  your lips — your lips will look a little fuller simply by being defined and enhanced with pigment—but lip blushing won't actually change the shape or feeling of your lips. Instead, it'll just leave you with a soft, shaded-in color that can enhance your lip symmetry, cover uneven lighjt pigmentation or scars, and give you the illusion of bigger, fuller lips.
Free consultation
 Vitiligo Camouflage
 It takes about 4 weeks after each appointment for the color to completely settle and stabilize.  During each session, more pigment is added to the skin in thin layers changing the color of the skin and blending it to your natural skin color.  Every 4 weeks you'll return for more pigmentation until you have had 4 treatments. During each session, the color is reviewed and adjustments are made if needed.  Each vitiligo camouflage treatment is unique, so the number of sessions needed to obtain the desired results will vary based on each client's individual situation.
Prices are based on treatment procedure time. Our work is customized to each client's needs based on skin size, location, skin condition and the colors we are matching. Each client starts out on a minimum of 4 monthly treatments. Prices usually around  $2,400 for a series of four two-hour treatments , one our $300  In a two-hour session, we can camouflage up to 9 square inches (3″ x 3″) of skin.
NOTE; hand, knee and elbow  camouflage are very challenging, because of the thickness, wrinkles and dryness of the skin as well as tattooing may be painful (we use a numbing cream). Also under the healing time nearly one week no water recommended on the tattooing (have a realistic expectation)
Do to the skin's thickness and the treatment being painful we're not offering camouflage; feet, elbow, knee and on the fingers. Pls read the salon policy before booking your appointment 
Free consultation 02 8542 4387