Cosmetic Tattooing Sydney
Permanent Make Up & Cosmetic Tattooing Clinic
Dark Lip Blushing & Dark Lip Colour Correction
Dark Lip Neutralisation our speciality...
Susie Finato
The  Dark Lip Neutralisation – Dark Lip Colour Correction is  the latest trend in permanent makeup.
 Great way to improve your appearance.
Dark Lip's Lip Blushing 
Everything You Need To Know About The Aesthetic Lip Treatment
The cosmetic procedure that's on everyone's lips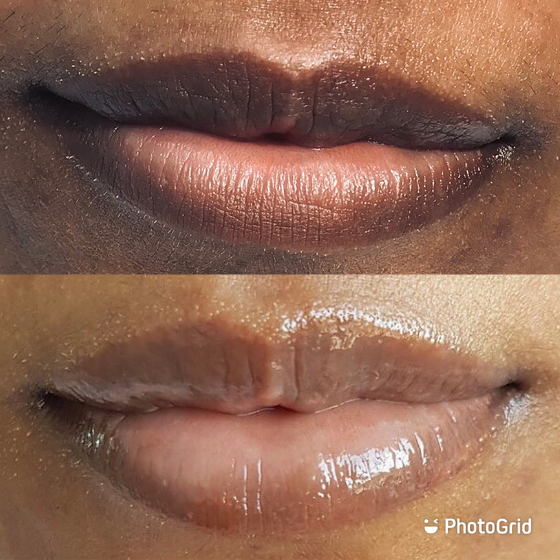 COLD SORES
Cold sores are a risk of lip blush tattoo only if you have had them in the past. If you have had a cold sore in the past, we advise that you consult with a doctor to obtain an anti-viral medication prior to any lip procedure as a preventative. Even if you have not had a cold sore before, we recommend all of my clients take L-lysine 2 weeks before the appointment and 2 weeks following the appointment to reduce the risk.
Dark Lip Neutralisation Tattooing
 "Dark Lip Blushing," is one of the most promising lip lightening permanent makeup procedure for clients who wish their lips to look lighter and even toned.
Dark Lip Neutralization – Lip Lightening treatment is a unique and gradual process that works to both even-out lip tones and slightly brighten naturally darker lips. It aimed this procedure to neutralize and create an even-tone both top and bottom lip. Dark Lip Neutralisaton tattoo could be a life-changing experience for many clients that struggle with discolored lip.
Tattooing dark lips has been controversial for many years in permanent makeup/cosmetic tattooing. However, it is becoming increasingly popular with female and male clients who want to lighten or color correct their lip.
Consultation required for this treatment.
Depending on how dark and hyperpigmented and textured the lips are, it might take multiple sessions to neutralize the lips. Usually bluish/greyish lip's 2-3 procedure, dark brown and textured, and thick lips 4-5 session in order to reach the correct base. During the last lip lightening sessions, if the client wishes, the lips stay in nude or a target colour applies. Melanin-rich lip, usually thick, textured and sensitive, is pretty tricky to work on. This procedure is time-consuming and needs commitment.
Free consultation; 02 8542 4387
 Lip Neutralisation Healing Process
The early healing stage lasts for 5-7 days and your lips should fully heal in around 6 weeks. When the lips start to heal and peel off, they can go light or dark in some spots. Don't worry…    
Sometimes clients might experience post-inflammatory hyperpigmentation or hypopigmentation that goes away but could be scary for a client. Between 5 to 6 weeks back to normal…  
The healing process of dark lips can be weird. Sometimes clients' lips get darker at the beginning and lighten up after a few weeks. Depending on how dark and hyperpigmented the lips are, it might take multiple sessions to neutralize the lips.
Dark Lip Neutralisation -Dark Lip Lightening
Dark Lip Lightening is for any person who is classified as a Fitzpatrick 3 and up on the Fitzpatrick skin tone scale. This can include people who have a heritage in Asia, Africa, South America, the Mediterranean and so on… Asian Lips Usually 2 -3 sessions, darker Indian or African lips over 4 sessions, bring the desired lip color. Every session gives a better, lighter look. The client's lip will be more even toned and lighter after 6-8 weeks. The best when the lips become lighter without the tattooed look… Thorough consultations with dark lip corrective tattooing are essential to set a plan, free consultation required. Melanin-rich lip usually thick and textured, pretty tricky to work on, also this procedure time-consuming, needs commitment.
Cosmetic Tattooing Sydney Review
Beatrice Menday
2022-07-12
I am of African descent and my lips were very dark. l've always wanted to have my lips tattooed to achieve a lighter look. I did my research and was lucky enough to cross paths with Susie Finato. She is hands down the best lip tattooing specialist in Sydney. She is very professional, talented and greatly experienced. I was very scared at first about getting the procedure done but quickly overcame the fear after I met Susie. She was very reassuring and was honest about the process. Also, her price is fair considering the time it takes to achieve the desired results. The procedure was not as complicated as I thought. Susie uses professional numbing cream which ensures maximum comfort during the procedure. Additionally, the healing process is quick and manageable too because Susie provides aftercare advice and products that ensure a smooth recovery. In less than a week after the procedure, my lips are healed up and within six weeks, the colour is settled in very well. I am very pleased with my lip lightening journey. I've had two sessions so far and my lips look more lighter and very beautiful. I am looking forward to my next session or sessions and I'm sure the final result will be amazing. I would highly recommend Susie for anyone that is looking to lighten or add colour to their lips. Look no further.
Susie is a true artist. She re-worked both my eyebrows and eyeliner beautifully (particularly challenging after the work that had been done on them previously.) Having now seen 3 different cosmetic tattooist over the year I would highly recommend Susie as a consummate professional and someone I would definitely allow to work on my face again.
Niluja Kugathasan
2022-07-02
Susie was amazing. If you are looking for any cosmetic work I would definitely recommend her! She is so kind, made me feel very comfortable and answered all my questions. I will definitely be coming back to Susie for further procedures. Thank you so much Susie! Xx
Best in the Industry. Very knowledgeable, honest and highly experienced. I have seen a dramatic improvement in my stretch marks, couldn't be happier
Susie so professional and really good customer service , I would really appreciate the time she takes for her client, she makes sure customer is happy
I had very dark lips which I hated for so many years. I wouldn't go out without lipstick ever but Susie changed my life forever. . She talked to me about my issue and then planned for neutraliser, followed by my choice of color . This made sense as color wouldn't have come properly if neutraliser had not been used as my lips were really dark. Infact susie applied neutraliser for atleast 2 sessions to make sure that my lips are neutral before applying any color. Then my choice of color was tattooed on lips. . I love my lips so much now That I use lipstick only on special occasions. . Going makeup free has given such a boost to my confidence. . Thank you so much Susie. Many people might think it's painful procedure and I understand that pain tolerance depends on individuals but I was so comfortable that I almost slept during one of session. Also please don't forget to tell Susie if you had lip filler or any other procedure on lips so she can take care accordingly. Other than her talent, she is wonderful person to talk with, accommodate the appointments and understand all concerns. Will be happy to come back after 3-4 years when I might need a touch up. So girls don't think twice and book a consultation ASAP. You wouldn't regret it. Xoxo
Susie does high quality work at a good price which is underpinned by a high, ongoing learned knowledge of her craft, a perfectionist approach with a personal, authentic service in a very comforting work space. I feel very good about having found Susie and would not use anyone else for any service she provides. I am sure that many of her clients feel the same way.
I had wonderful experience with Susie. She is very professional and a perfectionist. Amazing with her craft. I feel more confident after she worked on my lips and they look better than before. she knows what she is doing and will not complete a job until it is perfect. Highly recommended.
Susie is a top professional who knows her craft inside out and always delivers the desired results. She makes you relaxed the minute you walk in & you'll leave feeling gorgeous & beautiful. I highly recommend her services.