Cosmetic Tattooing Sydney
Permanent Make Up Clinic Sydney CBD
Lip Blushing - Lip Tint - Candy & Aquarelle Lip Design
We're specialising in Lip Blusing & Lip Tattooing
Lip blushing  is a semi permanent make up that adds a wash of color to your lip and helps define your lip shape for years. Natural-looking lipstick 24/7, but without the mess. Lip blushing can give you  an illusion of  bigger lips. Lip blushing can't add any real volume, but it can make your natural lips look more defined, especially around the Cupid's bow, which will give you the illusion of more depth and fullness.
Lip Blush
Lip blush treatment is less painful than traditional lip tattooing because it only works on the surface of your lips. This lip tattoo gives you a perfect daytime look. You only need a small amount of lip balm or lip gloss to have perfect lips all day.
Lip fillers can help to restore lip shape, add long lasting volume…
The lip blush idea came from the beautiful/sexy "kissed lips" look, or when you bite your lips…
We are very thankful if you avoid spicy foods 24/h before your treatment.

Aquarelle Lip
Aquarelle Lips is a mixed lip blushing- lip tattooing procedure. Blends the colour of your choice into your lips in a soft airbrushed, pixels effect. It does define the edges of your lips with an extremely thin sharp line. In fact, this differentiates Aquarelle Lips from regular lip blush, which has no edges. During the 1st session, we are always very cautious with the colour, fullness, and shape of the cupid's bow, as we can always add more in the 2nd session.
Your lips will look great after the first session but will look perfect after the 2nd session. This tattooing technique procedure is best in two appointments. Your lips are slightly underdone in the first session, leaving room to make them thicker, or brighter in your 2nd session. During your 2nd appointment, the shape and colour are fine-tuned.
Lip fillers: you must wait at least 1 month before or after getting your lips tattooed!
Velvet Lips
This exceptional lip tattooing procedure, prettify your lips, over and above, giving you a natural glamour effect. The velvet lip tattoo is relatively faster, around 90 minutes. The needle size is 0.30-0.35. This lip pigmentation achieves a high definition with a longer-lasting effect. Highly recommended.
Candy Lips
The candy lip tattooing technique is smart, unparalleled, and ideal for giving your lips a real shine, whether thin or plump. Working on your lip by skilfully applying a 3-colour gradient for a volume effect. Enhances the lips with a nude finish that is both natural and glamorous, also allowing to rebalance an asymmetry on this occasion.
Sheer Lips-Natural Look
Discreet moisturizing balm effect. A soft tint of colour throughout your lips for a natural definition. There are no harsh borders or outlines, enhance your natural lip shape and perfect your lip's symmetry without a noticeable sign of tattooing.You will get a very natural result once healed. Your lips will look fuller and healthier by being defined/enhanced with a "sheer finish" that is naturally glamorous.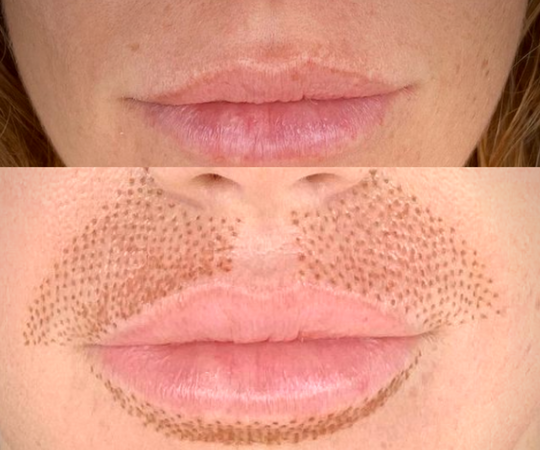 Lip Flip - Lip Augmentation
 Plasma Pen can be used to reshape the lip to a more pouty, sexy look. When used around the mouth, the skin contraction causes a pull on the edge of the lip, called the vermillion border. This pull causes an eversion or pout of the lip edge and a pleasing lip enhancement.
 The Lip Flip is done using a bit of topical anaesthesia and is very well tolerated- it's a relatively short procedure considering the awesome results. (You may need to wait about 30 minutes for the numbing cream to take effect.)
The pen will create small arcs of micro-currents that make small scab-like dots on the skin. Finishing step apply a cooling gel to minimize the tingling and burning sensation. Following your Lip Flip treatment, they're dots around the skin of your lip that will need to be shielded from the sun while they heal. The scabs have to fall off by themselves.  The healed tissue may show some redness in the days following the procedure.
Men's Lip Blushing
Permanent MakeUp for Men
It's a permanent make-up procedure, which is done by implanting special pigments into the skin's dermis. Blushing is more pixilated and gives the illusion of fullness rather than just permanent lip colour.
Men's lip blushing is designed to enhance the natural lips of the client. It doesn't add volume to the lips. Natural lip blush is for those with paler lips, who are looking to improve the overall tone of their lips, gain more symmetry or have a more defined lip border. Restorative lip blushing is for clients that have experienced trauma to their lips such as burns, cuts or tissue removal.
Prior to your Lip Tattooing
Cold Sores need medication for prevention….!
Before your treatment, gently exfoliate and moisturize your lips. 
Dry cracked lips are not suitable for tattooing- they have a tendency to bleed.
Lips cosmetic tattooing does not cause cold sores! 
 However, if you carry the virus, it lays dormant in the nervous system and can be aroused by the infusion process. 
Waxing and bleaching treatments should be performed no less than two weeks before your procedure. Dermal fillers in the lip should be performed no less than 4 weeks before your permanent makeup procedure.
Lip Blush & Lip Tattoos Aftercare Advice
Ice is used to reduce swelling but after the first 24 hours, the use of ice is no longer beneficial
Fluids will leak from the tattoo to form scabs. Wipe your tattoo every hour with a wet cotton round and pat the area dry (only the first 16/h). This will prevent/minimize scab formation. Re-apply minimal ointment as necessary.
Toothpaste and mouthwash have a lightening effect and can remove the lip colour. Proceed with caution when using. Showers are permitted but do not wash, scrub or touch the treatment area. BUT hot, steamy baths and showers should be avoided completely.
Do not pick it, the little scab has to peel off itself! Minimize exposure to the sun. No swimming in fresh salt, or chlorinated pool water. If you use Retin-A, avoid the treated area for thirty days.
Lip tattooing is not recommended:
Are under 18
Are pregnant or nursing
Are undergoing chemotherapy
Have hemophilia
Have major heart problems or a pacemaker
Have had an organ transplant
Have uncontrolled high blood pressure
Have diabetes (consult your doctor, it may be possible)
Have an auto-immune disease (consult your doctor, it may be possible)
Have anemia (pigment may not be retained properly)
Have a history of keloid scarring or hypertrophic scarring