Cosmetic Tattooing Sydney
We're specialising in Lip Tattooing
Lip Blushing - Candy - Aquarelle- Nude Lips
Lip blushing  is a semi permanent make up that adds a wash of color to your lip and helps define your lip shape for years. Natural-looking lipstick 24/7, but without the mess. Lip blushing can give you  an illusion of  bigger lips. Lip blushing can't add any real volume, but it can make your natural lips look more defined, especially around the Cupid's bow, which will give you the illusion of more depth and fullness.
Lip Blushing - Lip Tint
Lip blush is indeed a popular semi-permanent makeup procedure that offers several benefits. Here are some of the advantages of getting a lip blush:
Enhanced color and definition: Lip blush adds a touch of color and definition to the lips, helping them appear more vibrant and attractive. Whether you desire a natural-looking enhancement or a subtle tint, lip blush can provide the desired effect.
Time-saving: With lip blush, you can save time on your daily makeup routine. Since the pigmented color lasts for up to two years, you won't need to apply lipstick or lip liner every day. This convenience can be particularly appealing to those with busy schedules or those who prefer a fuss-free beauty routine.-
Smudge-resistant: Unlike traditional lip products, lip blush is resistant to smudging and transferring. Once the pigment settles, you can confidently go about your day without worrying about your lip color smearing or fading. This can be especially beneficial during activities such as eating, drinking, or wearing masks.
Increased confidence: Having well-defined and naturally colored lips can boost your confidence and self-esteem. Lip blush can help enhance the appearance of your lips, making them more aesthetically pleasing and contributing to an overall polished look.
Minimal pain and downtime: Lip blush is generally a minimally invasive procedure that involves minimal pain and downtime. Most individuals can resume their regular activities immediately after the treatment.

However, it's recommended to avoid spicy foods 24 hours prior to the procedure to minimize any potential discomfor

t

.It's important to note that the specific results and longevity of lip blush can vary depending on individual factors such as skin type,  and following their aftercare instructions will help ensure the best possible outcome.
Aquarelle Lip
Aquarelle Lips is an advanced lip tattooing procedure that offers a soft, airbrushed effect on the lips, similar to the watercolor painting technique. One notable aspect of Aquarelle Lips is the defined edges it provides. Unlike regular lip blush, which typically has a soft and blended appearance with no distinct edges, Aquarelle Lips incorporates an extremely thin, sharp line to define the lip contours. This differentiation adds a unique element to the procedure.
Typically, the Aquarelle Lips procedure is done in two sessions. While your lips will look great after the first session, the perfection of the desired outcome is achieved in the second session. This two-session approach allows for additional fine-tuning of the lip shape and color to ensure the best possible results.
It's important to note that if you are considering both lip fillers (dermal fillers to add volume to the lips) and Aquarelle Lips, it is recommended to wait at least one month before or after getting your lips tattooed. This timeframe ensures that the lips have fully healed and settled before any additional procedures or treatments.
Men's Lip Blushing
Permanent makeup procedures, including lip blushing, are not limited to women and can be performed on men as well. Men's lip blushing is designed to enhance the natural lips without adding volume. The procedure involves implanting special pigments into the dermis of the skin, giving the illusion of fullness and improving the overall tone of the lips.
For men with paler lips, lip blushing can help create more symmetry and define the lip border. The pigmentation is carefully applied to achieve a natural-looking result that enhances the lips without appearing overly dramatic or feminine.
In some cases, men may opt for restorative lip blushing. This specific type of lip blushing is suitable for individuals who have experienced trauma to their lips, such as burns, cuts, or tissue removal. The restorative lip blushing procedure aims to restore the appearance of the lips and improve their overall aesthetics.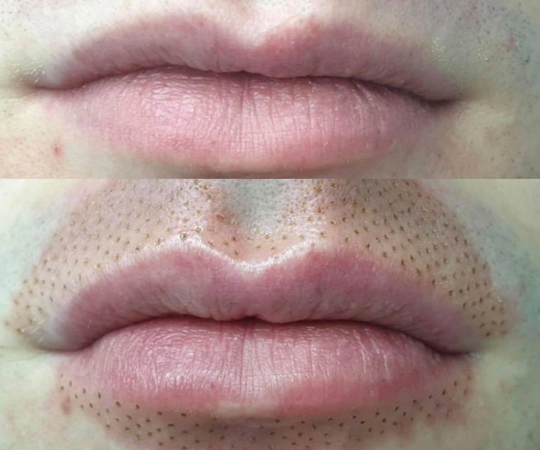 Lip Flip
The Plasma Pen is a device that utilizes plasma energy to perform various cosmetic procedures, including lip enhancements. When used around the mouth, the skin contraction caused by the Plasma Pen can result in reshaping the lip to create a more pouty and attractive look.
The specific technique used for lip enhancement with the Plasma Pen is often referred to as the "Lip Flip." It involves applying a topical anesthesia to ensure the procedure is comfortable for the client. The duration of the Lip Flip is relatively short, considering the noticeable results it can achieve.
During the Lip Flip procedure, the Plasma Pen creates small arcs of micro-currents, which generate small scab-like dots on the skin. These dots will need to be protected from sun exposure as they heal. The scabs should be allowed to fall off naturally, and it's essential not to pick at them.
Following the treatment, the healed tissue may exhibit some redness, which is a normal part of the healing process. Applying a cooling gel can help minimize any tingling or burning sensations that may occur.It's important to follow the aftercare instructions.
Prior to your Lip Tattooing
 Cold Sore Prevention: If you are prone to cold sores or carry the herpes simplex virus, it's recommended to consult with a healthcare professional for appropriate medication to prevent an outbreak. The infusion process involved in lip tattooing can potentially trigger the virus, leading to cold sores.
Lip Preparation: Prior to the procedure, gently exfoliating and moisturizing your lips can help create a smooth canvas for the tattooing process. However, it's important to avoid excessive exfoliation or using harsh products that may cause irritation.
Dry Cracked Lips: It's advisable to avoid tattooing on lips that are dry and cracked as they can be more prone to bleeding. Moisturizing your lips leading up to the procedure can help ensure optimal conditions for the tattoo application.
Timing of Other Treatments: If you plan to undergo waxing or bleaching treatments, it's recommended to schedule them at least two weeks before your lip tattooing procedure. Additionally, if you have had dermal fillers in your lips, it's advisable to wait at least four weeks before getting permanent makeup applied to the area.
Lip Blush & Lip Tattoos Aftercare Advice
After getting a lip blush or lip tattoo procedure, it's important to follow proper aftercare instructions to ensure optimal healing and long-lasting results. Here are some general guidelines:
Ice: Ice can be used in the first 24 hours after the procedure to reduce swelling. However, after this initial period, the use of ice is no longer beneficial.
Wiping and Drying: To prevent or minimize scab formation, gently wipe your tattooed lips with a wet cotton round every hour for the first 16 hours. After wiping, pat the area dry. This helps to remove any fluids that may leak from the tattoo and promote faster healing. After the initial 16 hours, you can discontinue the hourly wiping and drying routine.
Ointment Application: Apply a minimal amount of ointment as necessary to keep the tattooed lips moisturized. Follow the aftercare instructions provided by your tattoo artist or technician regarding the specific ointment to use and how often to apply it.
Avoiding Toothpaste and Mouthwash: Toothpaste and mouthwash can have a lightening effect and may remove the lip color. Use caution when brushing your teeth or using mouthwash to avoid direct contact with the tattooed area.
Showers: You can take showers after the procedure, but avoid washing, scrubbing, or touching the treatment area. Hot and steamy baths or showers should be completely avoided, as they can negatively affect the healing process.
Scab Peeling: It's crucial not to pick at the scabs that may form on your tattooed lips. Allow them to peel off naturally, as picking can lead to scarring or uneven healing.
Sun Exposure: Minimize exposure to the sun and protect your tattooed lips from direct sunlight. Sun exposure can fade the color and affect the overall appearance of the tattoo. If you must be in the sun, use a lip balm or lipstick with SPF and seek shade whenever possible.
Swimming: Avoid swimming in fresh, saltwater, or chlorinated pool water until the tattooed lips are fully healed. Submerging the treated area in water can disrupt the healing process and potentially cause infection.
Retin-A: If you use Retin-A or any other topical medication, avoid applying it to the treated area for at least thirty days. These products can interfere with the healing process and may affect the outcome of the lip tattoo.
Lip Tattooing is not recommended
Are under 18
Are pregnant or nursing
Are undergoing chemotherapy
Have hemophilia
Have major heart problems or a pacemaker
Have had an organ transplant
Have uncontrolled high blood pressure
Have diabetes (consult your doctor, it may be possible)
Have an auto-immune disease (consult your doctor, it may be possible)
Have anemia (pigment may not be retained properly)
Have a history of keloid scarring or hypertrophic scarring