Vitiligo Camouflage
Scars Camouflage
Vitiligo camouflage reduces the appearance of your Vitiligo….
The new camouflage tattooing technique, with the special pigments offers 90%t success. Typically lasts over 15 years. Minimum 3 seats need it…
We offer this treatment only for lips,  face & neck .
Scars removal; only for face & breast ,(after plastic surgeries).
Vitiligo Camouflage
Vitiligo camouflage reduces the appearance of your Vitiligo, 90% success. Typically last over 15/y.
Vitiligo has been in remission for 1 year can be treated with ParaMedical tattooing.
Vitiligo tattooing: multiple treatments are necessary to build the color to completely match your skin color. It takes about 6 weeks for the color to completely settle and stabilize in your skin. 
Every 6 weeks you need to be returned for more pigmentation until you have had a minimum of 3-4 visits on each treated area.
During each session, the color is reviewed and adjustments are made if needed to ensure that your color gets matched to your normal skin tones.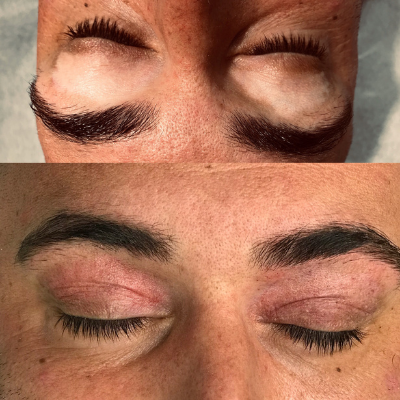 Scars Camouflage
The Scars Camouflage nearly identical to your skin, by using 3-5 layers of color in a microdot pattern which is the latest technique. The pigments matched your skin to make the scar color blend with the surrounding skin. The scar tattooing takes several sessions. Scar camouflage reduces the appearance of your scars, but it's important to understand no scar will ever completely disappear.
Every scar is different: shape, color, the appearance of depth, and so on. Some scars require only a single treatment, others take multiple treatments. Results are cumulative and may take 6-8 weeks to fully develop.
Your scars have to be at least 12 months old with stable color healed and no longer pink or changing color. If your scars have dark edges this procedure, not for you!  Post-Inflammatory,hyperpigmentation from your surgery indicates you had a tendency to hyperpigmentation so the risk is too high. Your scar has to be smooth and flat. If your scars are bumpy or raised this treatment, not for you.
You must have realistic expectations. The camouflage tattooing will not restore your skin to the way it looked before injured. Immediately after the tattooing, the pigmented area will look dark and red and it takes several weeks to show the healed color.
Aftercare
1,  Day/  Gently blot the area 30-60 minutes after the procedure. Use clean tissue or a cotton pad and a little water and antibacterial soap  Don't worry, this will not affect the pigment! Repeat this every 2-3 hours to avoid the build-up of blood or lymph in the area. After applying a thin layer of ointment.
2 -3,  Day/  Carefully blot the area in the morning and in the evening. It is important to remove dead skin and bacteria.   Make sure your hands are clean, and you use sterile water. Do not rub, tug or scrub the brows. After cleaning, apply a thin layer of ointment.  Your tattoo must not look greasy, glossy, or shiny.   If they do, you used too much cream!!!  When tapping the tattoo, don't make aggressive movements, be gentle.
No sweating no working out!  No gym excessive or swimming/sport for 7-10 days, well as hot saunas. Hot showers for at least 10 days after the procedure.   Picking, scratching, or peeling your eyebrows as you don't want to cause scarring of the area. No hot showers for at least 10 days after the procedure
Being directly exposed to the sun or chemicals for at least 4 weeks as you don't want to cause a shift in color or premature fading of color.