Lip Blushing - Men's Lip Blushing - Lip Tinting
We're specialising in Lip Tattooing
Susie Finato  Master Tattoo Artist  in Lip Tattooing
  If you want a perfectly shaped natural-looking yet seductive lips, then the lip blushing is for you.  Lip blushing allows you to wake up with perfect, beautifully flushed lips without applying a stitch of lipstick.
Lip blusing witalize your lips color, perfecting your lips symmetry, giving a beautiful definition and the illusion of fullness. The healing time of the lips blushing is very short, around 4-7 days.
Free consultation 02 8542 4387
Lip Blushing Tattooing
The full lip has been admired element of beauty in art from around the world, but nature doesn't always grace us with a beautiful lip and sadly the time can modify it as well.
Prior to your lip blushing pigmentation,  we'll pre draw and map the shape that works best for you. This is  where fullness and enhanced lip symmetry will be perfected.  We will discuss lip blush styles such as full, faded, aquarelle and more. Because there's a lot to talk about it,  expect your first appointment to take approximately 2-3 hours.
 The  lip blus technique  only works on the surface (pain free) of your lips, making it less painful than traditional tattooing. Color retention depends on your skin type, age, aftercare, sun exposure, use of certain products the immune system, medications, and other factors.
We're thankful if, 24/h before your treatment you avoid spicy, especially garlicky foods. 
Men's Lip Blushing Tattoo
Men's Lip Blushing tattooing is a semi permanent procedure which delivers realistic, natural look and still masculine.
Lip blush is a two session procedure. The first is the initial tattooing, and a touch-up is required after the lips have healed, which takes 6-8 weeks after the treatment. This is the standard procedure. However, dark lip neutralization, particularly on ethnic lips, usually necessitates more sessions to achieve satisfactory results consultation
 Lip Blushing cost in the "Price" section..
Lip Tint Tattooing
Lip Tint Tattoo gives you a fresher look. Your lips look absolutely natural because of the tattooing technique and there is not as much pigment in the skin as in lip tattooing.
New, oily textured pigments have nourishing effect, gives a smooth appearance to your lips.
The  pigment does not settle in the deep layers of derma and has a short wearing life, average around one year.
Perfect for young women with good lip shape.
 Lip Tint procedure around 90 min
Prior to your Lip Tattooing
Before your treatment,  gentle exfoliate and moisturize your lips. 
Dry cracked lips not suitable for tattooing-

tendency of bleeding.
Lips cosmetic tattooing does not cause cold sores!  
However
, if you carry the virus, it lays dormant in the nervous system and can
be aroused by
the infusion process.

We have the tablet for you…
Waxing and bleaching treatments should
be performed
no less than two weeks
prior to
your procedure
.
Dermal fillers in the lip should
be performed
no less than 4 weeks
prior to
your permanent makeup procedure
.
Hygienic reasons recommend washing your teeth
just

before the treatment.
Lip Blush - LipTattoos Aftercare
The ice is used to reduce swelling but after the first 24 hours, the use of ice is no longer beneficial.
Fluids will leak from the tattoo to form scabs.  Wipe your tattoo every hour with a wet cotton round and pat the area dry ( only the first 16/h) to ensure no fluids sit and form scabs,  re-apply minimal ointment as necessary.
Toothpaste and mouthwash have a lightening effect and can remove the lip color,proceed with caution when using.  Showers are permitted but do not wash, scrub, or touch the treatment area.  BUT hot, steamy baths and showers should be avoided completely.
Do not pick it, the little scab has to peel off itself! Minimize exposure to the sun.  No swimming in fresh salt, or chlorinated pool water.  If you use Retin-A, do not allow it close to the treated area for thirty days.
We give you,  your aftercare creams with aftercare instructions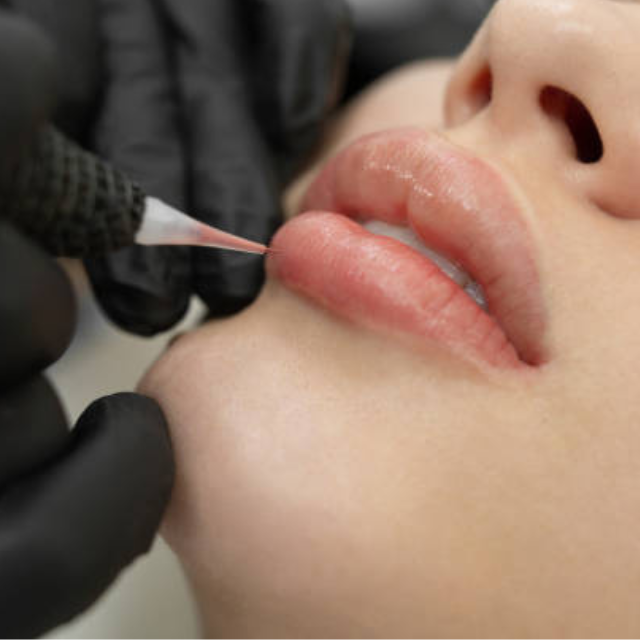 Aquarelle Lips Course Demonstration