EyeLash Enhancement ~ Invisible Eyeliner
Best makeup base
Susie Finato
Eyelash Enhancement- Invisible Eyeliner  semi -permanent tattooing make your lashline fuller look and darker,  still looking natural. Instantly open your eyes, give you a fresher, healthier look, without the noticeable effect of makeup. Excellent makeup base. You will realize the best thing you have down… Must have…
Free Consultation 02 8542 4387
Eyelash Enhancement- Invisible Eyeliner
Eyelash Enhancement- Invisible Eyeliner always compliments and completes any eye makeup. Eyelash Enhancement tattooing sits directly on the top of your lash line and perfectly blends into your lashes. Give you an Invisible Eyeliner look.
Eyelash Enhancement tattoo does not damage your lashes!
.
Because it gives an undetectable definition for the eyes, man can enjoy this tattooing.
Topical anesthetics are applied before and during the procedure to keep pain, and discomfort to a minimum.
.
The procedure requires approximately 90 min and there is no "downtime". You look perfect after the lash enhancements tattooing.
No pain, no redness, no swollen.
Retouch; 4-8 weeks
Semi-Permanent EyeLiners
EyeLliner tattooing  visually improves the shape of your eyes.  EyeLiner tattoo gives your eyes a bolder look, also gives an excellent base for your make up and when you want to take it up a notch and go full glam.
.
The procedure requires approximately 2 hours depends on the eyeliner tattooing style, thickness.
There is minimal downtime.
Please note 1-2 days, eyes may be slightly swollen, appear uneven, and may be sensitive to the touch.
Eyelash tinting, eyelash perming should be carried out no less than 2 weeks before your eyes tattooing procedure.
A touch up is required 4-8 weeks after the initial procedure.
Eyelids Shading Semi- Perment Tattooing
Stardust eyeliner- eyelids shading is a multi-faceted technique. Include an eyelash-definition, eyeliner, and magically shaded eyelids. A natural gradient of "dusty" color is created from the top line of the eyeliner.
.
This is a unique eyelids shading technique that gives your eyes a bold and sexy look while maintaining a soft delicate effect.
.
Eyelash extensions must be removed two days prior to your intended procedure. The procedure requires approximately two hours.
Please note 1-2 days, eyes may be slightly swollen, appear uneven,   and may be sensitive to the touch.
This technique established by S.O
Retouch; 4-8 weeks
Lash Grow Serum
If you are using an eyelash growing lash serum stop using it for a minimum of 4 weeks before getting a lash enhancement tattooing and you will need to wait a minimum of 4 weeks to resume using it. It has been documented the lash serums can lighten the tattoo.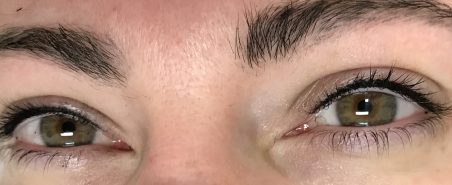 Eyelash Defination~Eyeliners Aftercare
Your eyes cannot get wet at all. It would be best to wash and cleanse your face with a washcloth or wipes for these 7 days.
.
NO sweating (hot yoga and the sauna will have to be on pause for 7 days).  No creams, no makeup directly on the eyes, no mascara.
.
No direct sun exposure (if you know you will need to be in the sun for extended periods of time you must wear a wide-brimmed hat).
.
You must let the mini scabbing process happen naturally.
This is very important for your retention and skin healing.
DO NOT pick it! It can result in scarring and will affect your overall retention of the pigment.
After 7 days you may resume your normal life.