Cosmetic Tattooing Sydney
Permanent Make Up Clinic Sydney CBD
We're Specializing in Lips Tattooing
Dark Lip Neutralisation Dark Lip Lightening
Dark Lip Colour Correction
Dark Lips Lightening -Dark Lips Neutralisation
Dark Lip Neutralization
could be a life-changing experience for many clients that struggle with discoloured/melanin-rich lips.
Dark Lip lightning is a specialized permanent make up treatments for those with cool or dark lips.  A unique and gradual process that works to both even-out lip tones and slightly brighten the darker lips.
Exfoliate your lips 3 days prior to your procedures.
Cold Sores need madication…!!
Dark Lip Neutralisation
Dark Lip Neutralisation –  Dark Lip Lightening is for any person who is classified as a Fitzpatrick 3 and up on the Fitzpatrick skin tone scale.
Lip's "nudifying tattoo" is a permanent makeup aka cosmetic tattooing procedure for clients who wish their lips to look lighter and even-toned.
Correcting dark lip colour has been controversial for many years in permanent makeup, however,( the latest safe technique) it becomes increasingly popular with female and male clients who want to lighten or colour-correct their lips
Dark Lip Neutralisation tattooing balances out the dark or cool tones in the lips by using colour theory techniques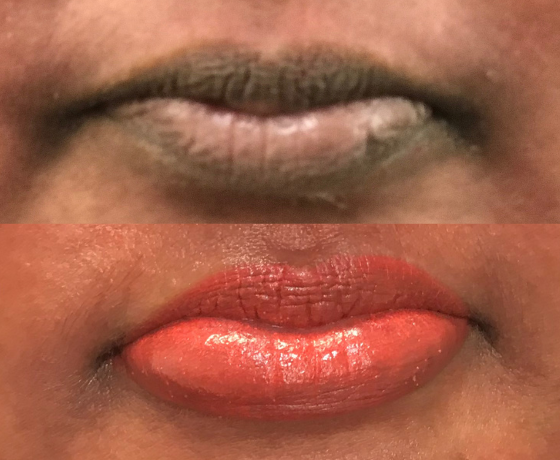 Recommend to watch this video
Lip Blushing on Dark Lips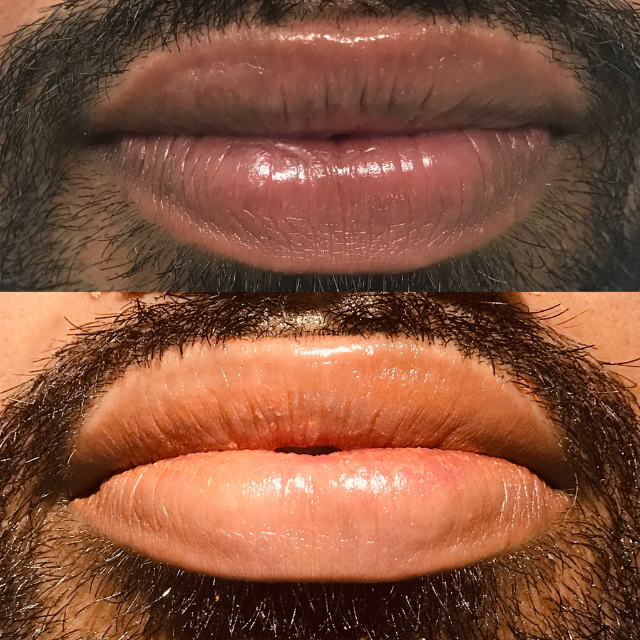 Prior To Your Treatment
Please avoid spicy food before the treatment.
Do NOT take any painkillers or alcohol for at least 24 hours before your appointment.
Do not take aspirin or anti-inflammatory medication such as Ibuprofen 2 days before your enhancement.
Do not use 1% Retin A skincare products close to the area to be treated for 6 weeks before your procedure.
Do not use AHA skincare products close to the area to be treated for 4 weeks before your procedure.
Avoid professional chemical peels close to the procedure site for 4 weeks before your procedure.
If you are on antibiotics prior to treatment, a doctor's clearance letter will be required.
Anti-wrinkle injections should be performed 2 weeks before or after the procedure. If you are on Warfarin or any other blood-thinning medication, we will require medical consent.
Dark Lips Healing Process
The healing process of dark lips can be weird. Sometimes clients' lips get darker at the beginning and lighten up after a few weeks. It can go light or dark in some spots.
Clients might experience post-inflammatory hyperpigmentation or hypopigmentation that goes away. Depending on how dark and hyperpigmented the lips are, it might take multiple sessions to neutralize lips.
With darker lips, healing takes 8-10 weeks it is a long process and needs commitment…
Lip Vitiligo
Lip Vitiligo
 is a genetic skin condition in which the cells that produce melanin stop functioning, causing white patches on the lips. The goal is to make the Lip Vitiligo more even and bring back the colour by tattooing with pigment matched with skin tone. Your lips, if discoloured or uneven in colour, can be filled in with natural lip colours.
Prior to your Lip Tattooing
Before your treatment, gently exfoliate and moisturize your lips. Dry cracked lips not suitable for tattooing- the tendency of bleeding.
Lips cosmetic tattooing does not cause cold sores!  However, if you carry the virus, it lays dormant in the nervous system and can be aroused by the infusion process. Cold Sores need medication for prevention 
Waxing and bleaching treatments should be performed no less than two weeks prior to your procedure. Dermal fillers in the lip should be performed no less than 4 weeks prior to your permanent makeup procedure.
Dark Lip Blush Aftercare Advice
The ice is used to reduce swelling but after the first 24 hours, the use of ice is no longer beneficial.
Fluids will leak from the tattoo to form scabs. Wipe your tattoo every hour with a wet cotton round and pat the area dry ( only the first 16/h) to ensure no fluids sit and form scabs, reapply minimal ointment as necessary.
Toothpaste and mouthwash have a lightening effect and can remove lip colour, proceed with caution when using.
Showers are permitted but do not wash, scrub, or touch the treatment area. BUT hot, steamy baths should be avoided completely
Most Common Causes of Dark Lips
Discoloured lips can be the result of a few things
Trauma or injury. A bruise can form on one or both lips following an injury. This can cause your lips to be partly or entirely purple or black

Smoking, the burns from the cigarette can cause a black spot on your lips

Lack of Vitamins such as B12

Dehydration-Inadequacy of water in the body resulting in lips during and cracking causing

Minor injuries, scars

Hyperpigmentation is also called Melasma. This is an abnormal increase of the melanin on the skin, especially on the lips which is a result of prolonged exposure to the sun or licking your lips too much.

Hormone disorder in the body (thyroid problems)

Certain medications also could cause darkening of lips for example phenytoin

too much caffeine

Lip sucking

Allergic reactions to foods, toothpaste, lipstick, or cosmetics

Lips that turn blue may be a sign that there's not enough oxygen available from the bloodstream

Certain chemicals in lipsticks may also cause rashes and pigmentation so it's good to know the ingredients and work with natural lipsticks